Accident Cases - Medical Malpractice
The damages sustained by a person who has been the victim of medical malpractice can be catastrophic, as is well known: amputations, blindness, long-term comas and death.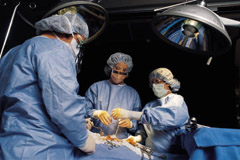 Several factors combine to make malpractice cases tough to win. First, the doctor's actions must be what is defined as "below the standard of care." However, since this means the standard of care in the doctor's geographical area as well as his specific field, the term becomes nebulous and difficult to enforce. It can also be difficult to get one physician to testify against another one.
Lastly, many medical malpractice cases involve a patient who already has a serious medical condition, and doctors in these situations are sometimes sued merely because they failed to produce a miracle for a patient whose chances for a good outcome may have been slim to begin with.
Medical malpractice cases are also expensive to litigate. Before even commencing representation, a specialist is usually needed to carefully study the potential litigant's medical history and then render an opinion as to the case's viability.
If you feel that you have been the victim of a health care provider's medical malpractice, please contact the Law Offices of Jonathan Daks.