Jonathan B. Daks
Attorneys and Counselors at Law
Phone: (818)789-4950
OVER 30 YEARS EXPERIENCE
EVENING & WEEKEND APPOINTMENTS
Since 1982, we have been helping accident victims get fair and just compensation.
As Personal Injury Attorneys, we serve the Los Angeles area from our offices on Ventura Boulevard in the city of Encino, adjoining Sherman Oaks, Reseda, Tarzana and Van Nuys.
Located in the San Fernando Valley, we are freeway-close to all of Los Angeles County and Southern California, serving clients in San Bernardino, Orange County, Riverside, Ventura, San Diego and Santa Barbara.
When necessary, we associate and work with attorneys in other states, from Nevada to New York.
Jonathan B. Daks dakslaw.com
Accident Cases - Underinsured Motorist Claims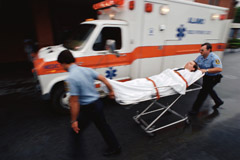 This type of claim applies where the person responsible for your injury has Insurance coverage, however the coverage is insufficient to cover the full monetary damages to which you are legally entitled.
Underinsured Motorist ClaimAfter the insurance of the party responsible for your injury has offered the entire policy amount, if your personal uninsured motorist coverage amounts are higher than the insurance coverage of the person responsible for your injury, then you are entitled to make a claim for those monetary damages which are over the responsible persons policy up to the maximum of your personal uninsured motorist policy.
For example, if injured party "A" had a claim with a value of $50,000.00 against party "B", party "A" could collect the $25,000.00 policy limit from party "B"s insurance and then party "A" could make a claim against his personal Uninsured/Under motorist coverage and collect an additional $25,000.00,-if for example he had a policy with a limit of $50,000.00.
Attorney Jonathan Daks, with offices located in Encino California, is convenient for San Fernando Valley CA residents and other nearby communities in the Los Angeles California area. If you need help with an underinsured motorist legal issue or any other accident cases, contact experienced personal Injury Law Attorney Daks.